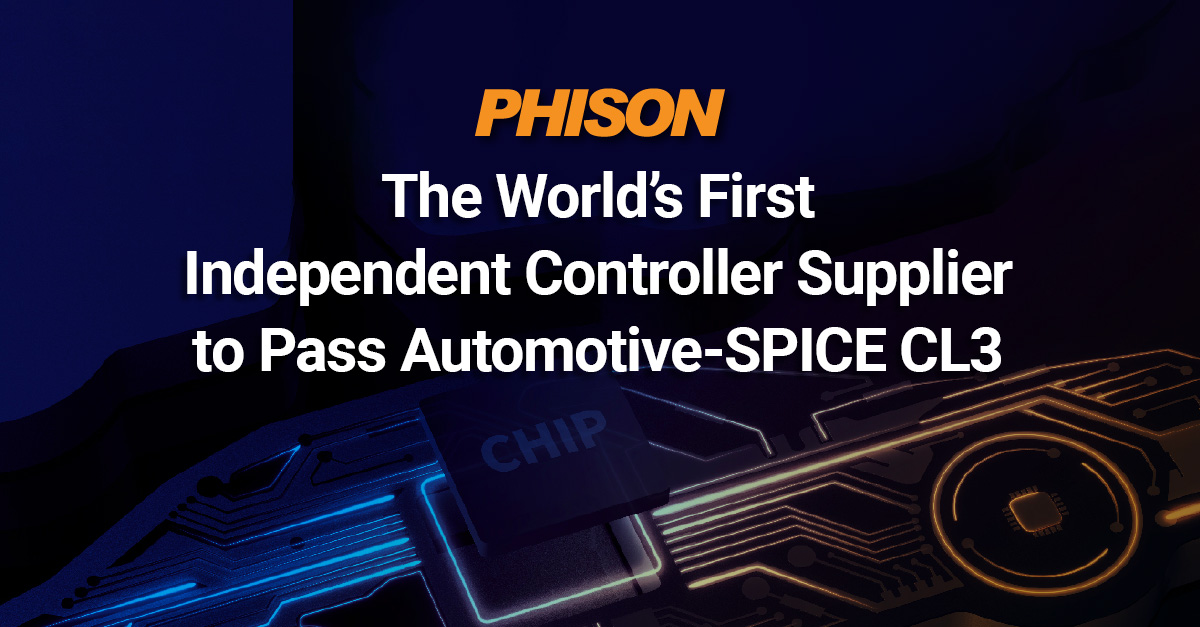 Phison, The World's First Independent Controller Supplier Passes Automotive-SPICE CL3
Phison Electronics (8299 TT), a global leader in NAND controllers and storage solutions, announced today (6/14) that it has passed the Automotive SPICE (ASPICE) Capability Level 3 (CL3). Phison has become the world's first independent controller supplier for eMMC controllers to pass this automotive software/firmware development and verification process.
"Phison has been investing in the development of automotive-grade NAND Controllers for over 10 years and is dedicated to innovating in the automotive storage market," said C.S. Ma, Vice President of Research and Development of Phison. "The ASPICE CL3 achievement underscores Phison's R&D team's efforts and demonstrates that Phison's automotive storage solution technology and firmware development process have reached the highest international level required by Tier-1 automakers."
With the flourishing advancement of innovation in the automotive sector, there has been an accelerated rise in demand for adopting new technologies in automotive chips. Consequently, automakers have become increasingly stringent in their requirements for suppliers, with Automotive SPICE capability levels gradually becoming one of the standard demands from them. This standard integrates the software and firmware development management experiences of the global automotive industry. By defining monitoring and managing related processes during the development stage, it aims to improve the delivery quality of automotive software and firmware products and enhance road safety.
ASPICE is the internationally recognized gold standard for software and firmware development. The ASPICE standard, Capability Level 3 (CL3) is currently the highest requirement for ASPICE known by global automakers. This esteemed level requires not only meeting the necessary work output, having a standardized method to evaluate the performance of each process and manage the work output, and establishing and implementing process tailoring rules based on project attributes and characteristics.
In addition to passing the ASPICE CL3, Phison has also passed the ISO 26262 and AEC-Q100. Furthermore, the manufacturing partners collaborating with Phison have obtained the IATF 16949 certification. Phison is dedicated to adopting the ASPICE standard for automotive eMMC, fostering the development of automotive BGA SSD and UFS, and aims to create a comprehensive automotive storage solution that meets the safety and quality requirements of global automakers that embraces the era of autonomous and electric vehicles.