Phison Demonstrates a Suite of Flash Solutions to Deliver Custom Optimizations for Artificial Intelligence Workloads Across the Global Digital Topography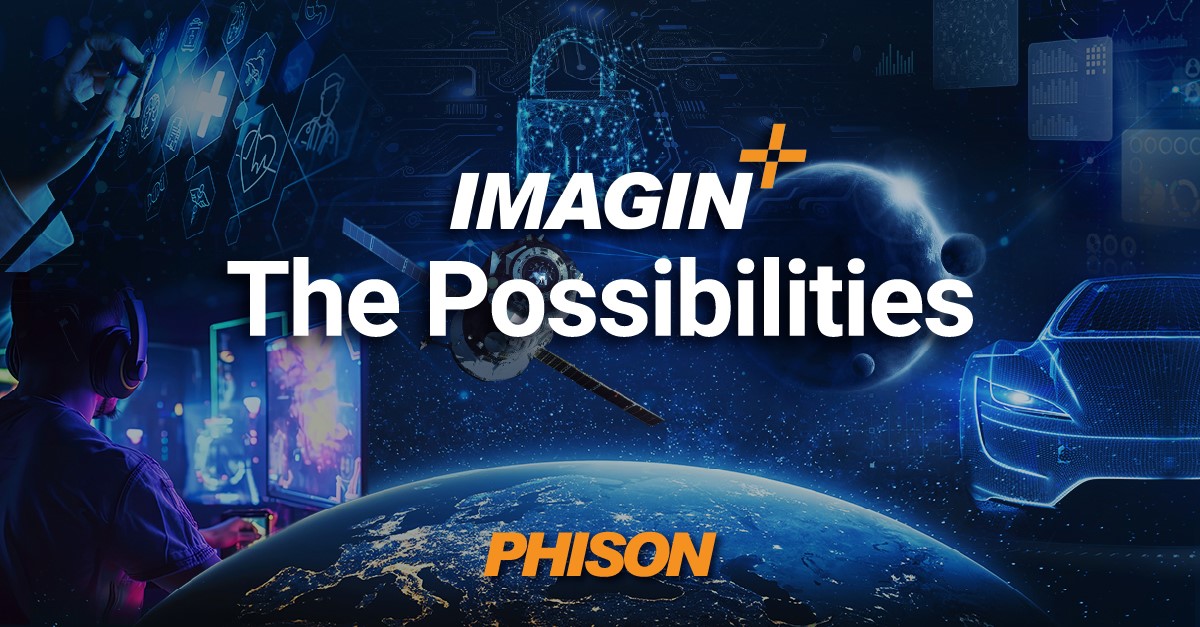 Phison IMAGIN+ the Possibilities in NAND flash storage at FMS 2023
SAN JOSE, Calif. – August 8, 2023 – Phison Electronics (8299 TT), a global leader in NAND flash and storage solutions, announces a technology demonstration of unique customer-based solutions fully realized through the IMAGIN+ customization service at Flash Memory Summit 2023.
Phison has expanded its IMAGIN+ design service to include AI computational models and AI services solutions. Customers work with specialized Phison teams to design and engineer custom flash deployments that precisely address the data performance and endurance  requirements of next generation products including those highly optimized for aiDAPTIV AI+ML workloads. With IMAGIN+ design services, Phison teams work hand-in-hand with customers to deliver AI-boosted SSD solutions that address demanding requirements.
FMS 2023 imagines the possibilities with Phison's IMAGIN+ design platform
"At FMS this year, Phison is excited to showcase the IMAGIN+ fully customizable enterprise data performance solutions for PCIe Gen4 and Gen5 and to demonstrate our ultra-fast prosumer SSDs designed for high-IOPS applications," said Michael Wu, President and General Manager, Phison US. "Whether you are building infrastructure for aiDAPTIV+ML, enterprise data center operations, edge compute, workstation, or gaming, Phison delivers industry-leading, performance-forward solutions for flash deployments. Our solutions offer low- latency and -power for maximum efficiency across a wide variety of use cases." 
Flash Memory Summit attendees can schedule demonstrations of the following Phison solutions: 
Alliances for AI – IMAGIN+ AI for component manufacturing with GIGABYTE and Adlink 
First wave of collaboration between Phison, GIGABYTE, and Adlink
Computer vision AI developed by Phison
Customized AMD-based workstations by GIGABYTE and edge AI inference platforms by Adlink
Phison X2 - Our first enterprise PCIe Gen5 solution based on TSMC 12nm manufacturing 
Capacities up to 64TB RAW NAND
Up to 14.7GB/s sequential and industry leading random workload performance
Supporting U.2 and E3.S form factors
Unique Phison CPU architecture for best-in-class performance and efficient power utilization
E26 – Tune It to the Max14um with the ultimate E26 featuring advanced Frore Systems AirJet Technology 
Frore Systems and Phison collaborate to demonstrate the world's fastest consumer SSD with over 1,000MB/s PCMark 10 Storage Test performance - A world's first for a NAND-based M.2 SSD
Tuned to maximize the full bandwidth of PCIe Gen5 in our most power-efficient, high-performance model ever
E26 was built for 2400MT/s NAND and we show you what the potent combination is fully capable of with up to 14.7GB/s performance on tap for the most demanding games, CAD/CAM, and other data intensive workloads
E27T – One for the Road - Delivering on the promise of PCIe Gen4 storage in a highly efficient DRAMless design
Delivers on the promise of low-power Gen4 SSD performance for mobile devices
Gaming on the go, E27T is optimized for low-power consumption making it the best choice for notebook gaming
Business travelers demand low latency but also require long battery life - this is where E27T makes a difference
Low power edge compute requires industry leading endurance that is both low cost and highly reliable
Supports 2400MT/s and 3600MT/s memory bus - A world's first for a client DRAMless SSD
The Phison PS5018-E18 pSLC Gen4 NVMe SSD –  Your 100% sustained workload leader 
Utilizes premium NAND in pSLC mode to deliver maximum sustained performance and endurance, up to 42 DWPD
High sustained read and write speeds for both sequential and random workloads
Custom tuning for environments such as AI+ML and RAID
Shown with Apex Storage X21 21-drive array used for AI+ML, high-frequency trading, and up to 168TB of data storage

Schedule a demonstration of Phison's industry-leading flash memory solutions and learn more about its IMAGIN+ customization system, and start to imagine the possibilities with Phison's IMAGIN+.