Since March of this year, Phison Electronics has been actively involved in the campus sprout project. In addition to hoping to recruit more outstanding talents, we also hoped to provide opportunities of understanding the development of IC design industry and the overall industry chain to college students so that they can have more directions for future career.
This time, Phison's Chairman Khein Seng Pua led HR and R&D teams to visit nearly ten universities in the field of electronics and electrical engineering in North, Central and South Taiwan. The number of students participating in this series of talent recruitment activities has accumulated nearly 1,000. The understandable industry briefing introduction and live real-time Q&A interactions let students know more about Phison. We also gave students our own SSDs so that they can be more efficient in learning. Besides, Phison worked with professors from several colleges to develop joint cooperation projects, looking forward to development of industry-academia collaboration in the future.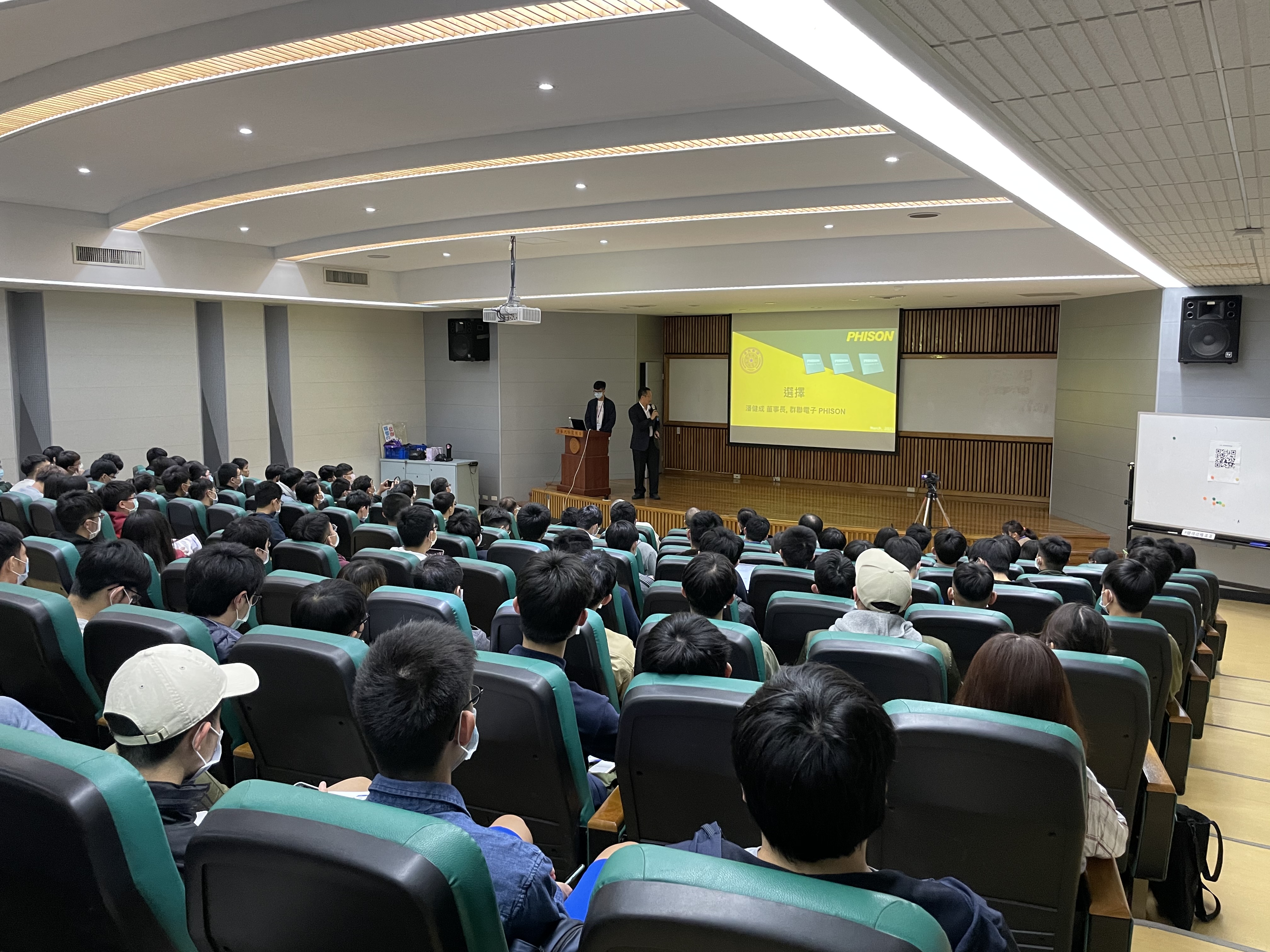 Recently, due to the rapid spread of COVID-19, the campus recruitment fairs that were originally scheduled to start in May has been suspended one after another, but our recruitment plan is still ongoing. In addition to our special project to draw cash prizes from the person delivering resumes that started in March has announced the lucky winners on the Facebook, other physical campus recruitment activities have been changed to live streaming. Our Chairman Khein Seng Pua served as the streamer to reveal the life of Phison's employees.
In the future, we will participate in more campus activities, including technical industry-academic cooperation projects (it is estimated to invest nearly 10 million in industry-academic expenses, covering power, flash memory, and various software and hardware related fields), talent recruitment fairs, keynote speeches and student activities. We hope to create different experiences with academia and then attract more outstanding students to join us, creating a splendid storage world and extend the future.
Type of cooperation

Cooperative unit

Industry & Academia Alliance

National Taiwan University SOC Center Alliance

National Yang Ming Chiao Tung University Electrical and Computer Engineering Alliance

Industry-University Cooperation Program

College of Artificial Intelligence, National Yang Ming Chiao Tung University

Department of Electrical and Computer Engineering, National Yang Ming Chiao Tung University

Department of Electrical Engineering, National Tsing Hua University

Department of Electrical Engineering,

National Cheng Kung University

Talent recruitment fairs and keynote speeches for campus promotion

Annual recruitment of talents from universities and colleges in spring and autumn.

Lectures from National Taiwan University, National Tsing Hua University, National Yang Ming Chiao Tung University and other Department of Electronics and Electrical Engineering.

Student activities

In the E-sports Competition held by Department of Electrical and Computer Engineering, National Yang Ming Chiao Tung University, Phison sponsored the event with nearly NT$120,000 and raffled off PS5 at the event.

In the Electrical Association Basketball Competition held by National Taiwan University, Phison full sponsored the event NT$60,000, and also organized two basketball teams to compete with the students.